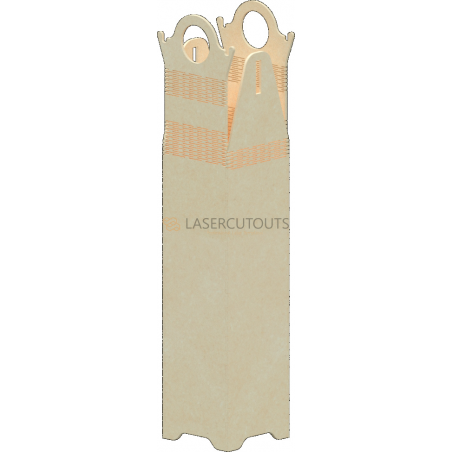  
3mm Living Hinge Wine Case Template
3mm Wine Bottle Case Template
This Wine Box Template is designed to take a standard size wine bottle.  The box is functional and utilizes a unique living hinge closure mechanism.  The hinge has been designed to be strong and minimize laser cutting time.

There is plenty of space available on the lid to add custom laser engravings or add your own patterns to laser cut.  There are 100s of opportunities to create unique designs with the laser cut template.
The drawing files included are DXF, SVG and PDF.  Your purchase allows modifying these files to further customize the design.

Lines are pre-coloured for easy laser software handling.  
Red - Outside Cuts
Green - Inside Cuts


The wine bottle box template uses slotted joints designed to be laser cut from 3mm materials.
Inner Dimensions:
Width 85mm
Height 360mm
Depth 85mm
Click on the Model to change its orientation.  Use the mouse wheel to zoom.
Living-Hing-Wine-Bottle-Case
No customer reviews for the moment.