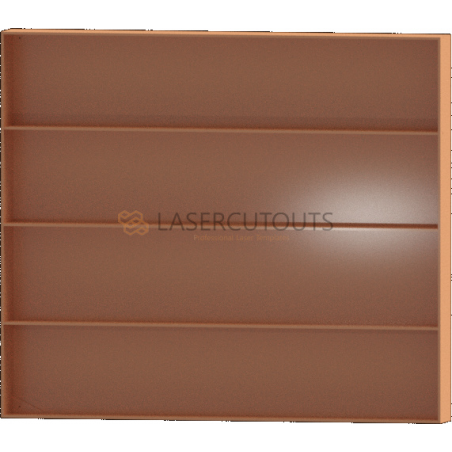  
6mm Large Wall Rack Template
This Large Wall Rack Template is functional and requires 6mm materials for the sides, shelves and supports and 3mm materials for the backing.  This laser cut wall rack is ideal for displaying trinkets, ornaments and kids toys.

Cut the wall rack from bright melamine colours for a kids room, or use veneers to create an elegant show piece.
The drawing files included are DXF, SVG and PDF.  Your purchase allows modifying these files to further customize the design.

Lines are pre-coloured for easy laser software handling.  
Red - Outside Cuts
Green - Inside Cuts


The Wall Rack slotted joints designed to be laser cut from 6mm materials for the shelves and sides and 3mm materials for the backing.

Width 1055mm
Height 915mm
Depth 110mm
Click on the Model to change its orientation.  Use the mouse wheel to zoom.
No customer reviews for the moment.